The Faces and Surfaces of Robida
versione in italiano sotto / slovenska verzija teksta spodaj
In experiential terms, the abstract philosophical distinction between subjects and objects is readily understandable when it is translated into the difference between faces and surfaces. A face individuates whoever has it, rendering this being, precisely, a who. Whether smooth or rugged, a surface is the anonymous outer layer of material existence, delimited in its finitude by edges, beyond which this particular surface ends.
Just as the subject-object distinction is not set in stone and has, in fact, recently undergone a thorough questioning and critique, so its palpably experiential corollary is far from secure. Faces are actually made of living surfaces—of skin, above all, but also the protrusions or invaginations of sense organs, without which a face does not open itself to the world and the world remains closed to a face. And, in their uniqueness, in the unrepeatable interplay of their edges, clashing and overlapping, surfaces are not entirely anonymous; instead, they are facialized, beyond the symbolic machinery of metaphor or allegorical connotations. Do houses have faces, with their windows and doors playing the role of their sense organs? Does a mountain have a face, its slopes uniquely bedecked with lush forests and, on a more limited scale, peppered with the white of house walls? Do flowers and trees have faces, too?
These thoughts and questions grew in me and announced themselves with utmost clarity at a specific place and time. Topolò, August 2022. Why there and then? And does it matter? –It definitely does: for plant-thinking, the context, a singular spatio-temporal situation, is constitutive of that which is thought, of that which grows. I was in Topolò to offer an intensive seminar on "mystical ecology," a seminar that, despite its circumscribed duration, spilled over the restricted hours and the room, where it was meant to take place, embracing all the hours and every corner of the environment, both inside and outside. The encounters in Topolò conveyed that thinking—inspired by Jewish mysticism, philosophy, the place where it happened, and the fecund middle ground between those engaged in it—were, like breathing or eating, a matter of fundamental life, both enjoyable and indispensable, their energy not dissipating, but surprisingly increasing in the measure, in which it is shared. 
Robida Collective, which made all this possible, is the context and the text of Topolò, the faces and the surfaces, where ecology, art, and thinking intersect, becoming indistinguishable from life itself, in various modalities: of the human and other-than-human, individual and collective, psychic and physiological, the interiority of a dwelling and the outwardly turned attitude of hospitality. Robida—let us recall—is both the name of a collective and the Slovene word for bramble, a plant that grows in an untamable fashion by the sides of roads and on mountains, at the margins and in border areas that are so rife with unexpected exchanges, symbiotic arrangements, and interminable, if also finite, passages. Robida is inherently a conjunction of face and surfaces, of facialized surfaces and surfacing faces: of leaves and stalks and berries and human beings, each by her- or himself and joining together, of the houses and the paths, of all the elements and the ecosystems (the mountains, the forest, the river), without which existence would be impossible. It is this very facialization of the classical elements (earth, water, air, fire) that served as the theme of the seminar I gave in August 2022, but I could understand the broader scope and implications of the thinking and practices folded into the theme only once I found myself there and then, among the perennial and the fleeting faces and surfaces of Robida, to which, for the time being, I humbly added my own. 
Much has been said and written about the blurring of boundaries between nature and culture, about the nature-cultures or the culture-natures that make up the world, especially in the grim geological epoch known as the Anthropocene. Despite what I have previously termed "the global dump," which has triggered profound changes even at the level of the elements, and despite, also, the attitude of a lucid hopelessness, to which I have more recently appealed, this interface of nature and culture was configured otherwise at Topolò. I could sense how, without a tinge of romanticism, the attunement—the deep listening to and acquaintance with—the place and, coincided with its transformation, the mutual transformation of Robida's face and surface. How did this transpire? How did it come to pass? 
Language may give us a hint. While we tend to operate with nouns that are quite abstract and represent a relatively late stage in the use of language, each noun, in its substantiveness and apparent solidity, bears a trace of the verb, out of which it has been generated. So, a face is the outcome of the act of facing, while a surface is the result of surfacing, the gerund serving as a bridge of sorts between the nouns and their corresponding verbs. Here, at this moment (the here-and-now that keeps harkening back to the days in August 2022 in Topolò, when and where the thought sprang up), face and surfaces are the ever so provisional, dynamic outcomes of facing and surfacing, of an active adumbration or change of position. Heliotropic flowers excel in such dynamic facing toward the sun. In the fragile and relatively thin contact zones of the soil and the atmosphere or of marine superficies and the air, it is elemental surfacing that undergoes ongoing adjustments. At Robida, I have witnessed and participated in the facing and the surfacing—the inter-facing and inter-surfacing—that makes this wonderful collective what it is, namely a living an enlivening reinvention of co-existence.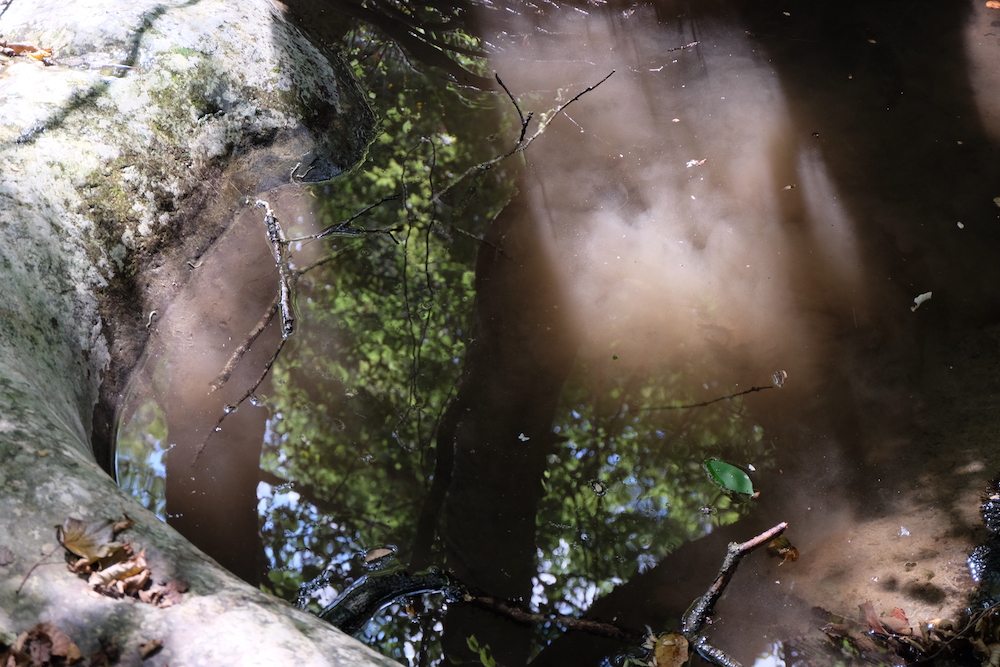 ---
I volti e le superfici di Robida
In termini esperienziali, l'astratta distinzione filosofica tra soggetti e oggetti diventa più comprensibile se tradotta nella distinzione tra volti e superfici. Un volto identifica sempre il soggetto che lo possiede, rendendolo un inequivocabile chi. Liscia o ruvida che sia, invece, una superficie è l'anonimo strato esterno dell'esistenza materiale, delimitato nella sua finitezza da bordi, oltre i quali essa cessa di esistere.
Ma, se la distinzione soggetto-oggetto non è un assunto definitivo, anzi, è stata di recente messa al centro della critica e di una scrupolosa discussione, il suo corollario palesemente tangibile è tutt'altro che al sicuro. In realtà, i volti sono fatti di superfici vive – formate principalmente da pelle, ma anche dalle protrusioni o invaginazioni degli organi sensoriali, senza le quali il volto non si apre al mondo e il mondo rimane chiuso al volto. E, nella loro unicità, nell'irripetibile interazione dei bordi, che si scontrano e si sovrappongono, le superfici non sono del tutto anonime, ma piuttosto sfaccettate, al di là del meccanismo simbolico della metafora o delle connotazioni allegoriche. Le facciate delle case non sono forse un volto, con le finestre e le porte a svolgere il ruolo dei loro organi sensoriali? Una montagna non ha forse una faccia anche lei, con i pendii adornati in modo singolare da foreste lussureggianti e, su scala più ridotta, punteggiati dal bianco delle case? E i fiori e le piante, non hanno anche loro una faccia?
Questi pensieri e domande mi sono cresciuti dentro per poi palesarsi con chiarezza cristallina in un particolare luogo, Topolò, e in un momento ben preciso, nell'agosto del 2022. Perché proprio lì e allora? E soprattutto, ha importanza? Assolutamente sì: nel pensiero vegetale, il contesto, una situazione spazio-temporale specifica, è parte essenziale di ciò che viene pensato, di ciò che cresce. Mi trovavo a Topolò per condurre un seminario intensivo sull'"ecologia mistica", un seminario che, sebbene di durata circoscritta, si è prolungato oltre gli orari e gli spazi deputati, abbracciando ogni minuto e ogni angolo dell'ambiente, interno ed esterno. Gli incontri a Topolò trasmettevano l'idea che il pensiero – stimolato dal misticismo ebraico, dalla filosofia, dal luogo in cui accadeva e dal fertile confronto tra i partecipanti – fosse, come il cibo e il respiro, una questione di vitale importanza, piacevole quanto indispensabile, e la loro energia anziché dissiparsi cresceva in modo sorprendente nella misura in cui veniva condivisa. 
Il collettivo Robida, che ha reso possibile tutto ciò, è insieme il contesto e il testo di Topolò, il volto e la superficie, dove ecologia, arte e pensiero si intersecano e diventano indistinguibili dalla vita stessa sotto vari aspetti: umano e altro-dall'umano, individuale e collettivo, mentale e fisiologico, l'interiorità dell'abitare e l'apertura verso l'esterno dell'ospitare. Non dimentichiamo che Robida non è solo il nome del collettivo ma anche la parola slovena che significa rovo, una pianta indomabile che cresce soprattutto lungo le strade, sulle montagne e nelle zone marginali e di confine, dilaganti di scambi inaspettati, intese simbiotiche e passaggi interminabili, nonostante la loro finitezza. Robida è quindi per natura una congiunzione di volti e superfici, superfici dai mille volti e volti che affiorano in superficie: di foglie e steli e bacche ed esseri umani, ognuno per conto suo e tutti assieme, di case e sentieri e di tutti gli elementi e gli ecosistemi (le montagne, la foresta, il fiume), senza i quali l'esistenza sarebbe impossibile. Ed è proprio questa visione facciale dei quattro elementi (aria, acqua, terra e fuoco) che ha costituito il tema del seminario da me tenuto ad agosto del 2022, ma quando mi sono ritrovato lì, tra le superfici e i volti perenni e quelli passeggeri di Robida, a cui si era temporaneamente aggiunto il mio, solo allora ho compreso la portata più ampia del tema e gli effetti sul pensiero e sulla pratica che implicava.
Si è detto e scritto molto sulla sfocatura dei confini tra natura e cultura, sulle culture-nature e sulle nature-culture che costituiscono il mondo, soprattutto nella cupa era geologica nota come Antropocene. A dispetto di ciò che io stesso ho definito "la discarica globale", responsabile di avere innescato cambiamenti profondi anche a livello degli elementi, e anche a dispetto dell'atteggiamento di lucida disperazione a cui mi sono lasciato andare negli ultimi tempi, questa interfaccia di natura e cultura si è configurata in una chiave inedita a Topolò. Riuscivo a percepire come, senza ombra di romanticismo, la sintonia, ossia l'ascolto profondo e la familiarità con il luogo, coincidessero con la sua trasformazione, la trasformazione reciproca del volto e della superficie di Robida. In che modo è accaduto? Come ci siamo arrivati? 
Forse il linguaggio può darci un indizio. Anche se tendiamo a usare nomi piuttosto astratti e che rappresentano uno stadio relativamente recente nell'uso del linguaggio, ogni nome, nella sua sostantivazione e apparente solidità, racchiude in sé una traccia del verbo da cui deriva, e viceversa. Nell'inglese, ad esempio, il termine face, che sta per volto, è rinvenibile nel gerundio facing, che esprime l'azione dell'esporsi, mentre il termine surface, che sta per superficie, è rintracciabile in surfacing, che indica il processo di affioramento verso i confini con un altro elemento. Il gerundio, in questi casi, funge da ponte tra i nomi e i rispettivi verbi, ma anche qui, adesso (il qui e ora che continua a riportarmi a quei giorni di agosto del 2022 a Topolò, nel luogo e nel momento in cui sono scaturite queste riflessioni), i volti e le superfici sono i risultati sempre provvisori e dinamici di un'esposizione e di un affioramento, di un'impressione attiva e di un cambiamento di posizione. I fiori eliotropi sono maestri nell'arte dell'esporsi al sole. Nelle fragili e relativamente sottili zone di contatto tra il suolo e l'atmosfera o tra le superfici marine e l'aria, il processo di affioramento degli elementi è quello che subisce continui aggiustamenti. Nel contesto di Robida, ho osservato e partecipato all'esposizione e all'affioramento – all'inter-esposizione e all'inter-affioramento – che fanno di questo collettivo ciò che è, ossia una reinvenzione vivente e vivificatrice della coesistenza.
Traduzione di Nausikaa Angelotti e Daniela Marina Rossi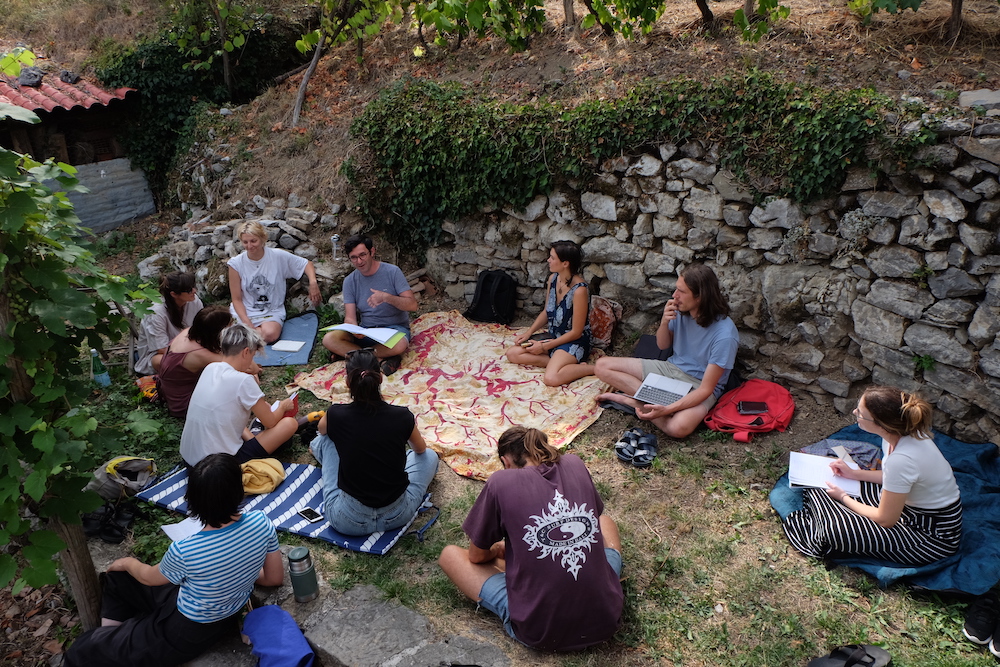 ---
Obrazi in površine Robide
V izkustvenem smislu lahko abstraktno filozofsko razlikovanje med subjekti in objekti zlahka razumemo, če ga prevedemo v razlikovanje med obrazi (ang. faces) in površinami (ang. surfaces). Obraz individuira tistega, čigar obraz je, in tako neko bivajoče naredi v kdo. Ne glede na to, ali je gladka ali robustna, pa je površina anonimna zunanja plast materialnega obstoja, ki je v svoji končnosti omejena z robovi, onkraj katerih se ta površina konča.
Tako kot samo razlikovanje med subjektom in objektom ni vklesano v kamen in je v zadnjem času podvrženo temeljitemu preizpraševanju in kritiki, tako tudi njegov otipljivi izkustveni korelat še zdaleč ni na varnem. Obrazi so pravzaprav sestavljeni iz živih površin – predvsem iz kože, pa tudi izrastkov ali vdolbin čutnih organov, brez katerih se obraz ne odpira svetu in svet ostaja za obraz zaprt. In v svoji edinstvenosti, v neponovljivem medsebojnem poigravanju, zadevanju in prekrivanju njenih robov, površine niso povsem anonimne; namesto tega so obražene, dan jim je obraz onkraj simbolne mašinerije metafor ali alegoričnih konotacij. Ali imajo hiše obraze, okna in vrata pa imajo vlogo njihovih čutil? Ali ima gora obraz? Njena pobočja so edinstveno prekrita z bujnimi gozdovi in — v bolj omejenem obsegu — prežeta z belino hišnih sten. Imajo tudi rože in drevesa obraze?
Te misli in vprašanja so rasla v meni in se z največjo jasnostjo oglasila na točno določenem mestu in v točno določenem času. Topolove, avgust 2022. Zakaj ravno tam in takrat? In ali je to sploh pomembno? – Vsekakor je: za rastlinsko-mišljenje je kontekst, singularna prostorsko-časovna situacija, konstitutiven za tisto, kar je mišljeno, za to, kar raste. V Topolovem sem bil, da bi vodil intenziven seminar o »mistični ekologiji«, seminar, ki se je kljub omejenemu trajanju razlil preko omejenih ur in preko prostora, kjer naj bi se prvotno odvijal. Zajel je vse ure in vsak kotiček okolja, tako znotraj kot zunaj. Srečanja v Topolovem so pokazala, da je mišljenje – navdihnjeno z judovskim misticizmom, filozofijo, krajem, kjer se je dogajalo, in plodno srednjo potjo med tistimi, ki so bili v to mišljenje vpleteni – tako kot dihanje ali prehranjevanje stvar temeljnega življenja, tako prijetno kot nepogrešljivo. Energija srečanj se ni razblinjala, temveč je presenetljivo naraščala skupaj z našim deljenjem misli in vsakdana.
Kolektiv Robida, ki je vse to omogočil, je kontekst in besedilo Topolovega, obrazov in površin, kjer se križajo ekologija, umetnost in mišljenje ter postajajo nerazločljivi od življenja samega: človek in drugo-kot-človek, individualno in kolektivno, psihično in fiziološko, notranjost bivališča in navzven obrnjena drža gostoljubnosti. Spomnimo se, da je Robida hkrati ime kolektiva in slovenska beseda za rastlino, ki neukročljivo raste ob robovih cest in po gorah, obrobjih in obmejnih območjih, ki so prepredena z nepričakovanimi izmenjavami, simbiotičnimi ureditvami in neizmernimi, četudi končnimi, prehodi. Robida inherentno povezuje obraz in površine, obražene površine in površinskost obrazov: listov in pecljev in jagod in ljudi, vsakega zase in združenih, hiš in poti, vseh elementov in ekosistemov — gora, gozdov, rek —, brez katerih bi bil obstoj nemogoč. Prav to dajanje obraza klasičnim elementom (zemlji, vodi, zraku, ognju) je bila tema seminarja, ki sem ga vodil avgusta 2022. In vendar sem lahko širši obseg in posledice mišljenja in praks, ki so bili prepleteni v tisti témi, razumel šele takrat, ko sem se v tistem trenutku znašel tam, med trajnimi in minljivimi obrazi ter površinami Robide, h katerim sem za tisti čas ponižno dodal tudi svoj obraz.
Veliko je bilo povedanega in napisanega o brisanju meja med naravo in kulturo, o naravo-kulturah ali kulturo-naravah, ki sestavljajo svet, zlasti v mračni geološki dobi, znani pod imenom antropocen. Kljub temu, kar sem na drugih mestih poimenoval »globalno smetišče«, ki je sprožilo globoke spremembe celo na ravni elementov, in tudi kljub odnosu lucidnega brezupa, na katerega sem nedavno apeliral, je ta vmesnik med naravo in kulturo v Topolovem drugače konfiguriran. Začutil sem, kako brez kančka romantike poteka uglasitev – globoko poslušanje in spoznavanje – kraja in ob njegovem preoblikovanju tudi medsebojno preoblikovanje obraza in površine Robide. Kako se je to zgodilo? Kako je prišlo do tega?
Jezik nam lahko da namig. Medtem ko ponavadi operiramo s samostalniki, ki so precej abstraktni in predstavljajo razmeroma pozno stopnjo v rabi jezika, nosi vsak samostalnik v svoji vsebinski in navidezni trdnosti sled glagola, iz katerega je nastal. Tako je obraz rezultat dejanja obraženja (ang. facing), medtem ko je površina rezultat površinjenja (ang. surfacing), glagolnik služi kot nekakšen most med samostalniki in njihovimi ustreznimi glagoli. Tukaj, v tem trenutku (tukaj-in-zdaj, ki se vrača v tiste dneve avgusta 2022 v Topolovem, ko in kjer je vzklila misel), so obraz in površine začasni, dinamični rezultati obraženja in površinjenja, aktivnega namigovanja ali spremembe položaja. Heliotropne rože uspevajo ravno v takšni dinamični uperjenosti proti soncu. V krhkih in razmeroma tankih kontaktnih območjih med prstjo in atmosfero ali morskim površjem in zrakom je elementarna površina tista, ki se nenehno prilagaja. Pri Robidah sem bil priča in sem sodeloval pri obraženju in površinjenju – soobraženju (ang. inter-facing) in medpovršinjenju (ang. inter-surfacing) – zaradi česar je ta čudovit kolektiv to, kar je: živa in poživljajoča reinvencija so-obstoja.
Prevod: Aljaž Škrlep
---
Michael Marder is IKERBASQUE Research Professor in the Department of Philosophy at the University of the Basque Country (UPV-EHU), Vitoria-Gasteiz, Spain. His writings span the fields of phenomenology, political thought, and environmental philosophy.
---
Text commissioned by Visible (Cittadellarte - Fondazione Pistoletto e Fondazione Zegna) on the occasion of the Temporary Parliament "Decolonizzation, Resilience and Regeneration" held at the Turin Town Hall in collaboration with Polo del '900 and in the framework of Biennale Democrazia 2022.