Ajda Pratika
What remains
The publication Ajda Pratika is finally on our bigcartel.
We took some time to reflect on the project!
You can find more about Ajda Pratika publication on this page of our website!
"Ajda Pratika is about slowness, cyclicity and seasonality. It is dedicated to Slovene vernacular culture as well as to forgotten, lesser known, rural cultures in general. It speaks of a new gaze toward what seems far away, of inexperienced hands toward unknown textures, of new encounters with buckwheat, the specific pseudo-grain we dedicate our senses to. Ajda Pratika is a space between pages which unfolds its practices through you, the landscape which surrounds you, the kitchen you process your food into eatables, the table you share the landscape on. Ajda Pratika is a tool which stimulates an embodied relation with food, its cultivation and production. It is a manual which invites you to question the personal relation to eating as a cultural phenomenon."

from the introduction, Ajda Pratika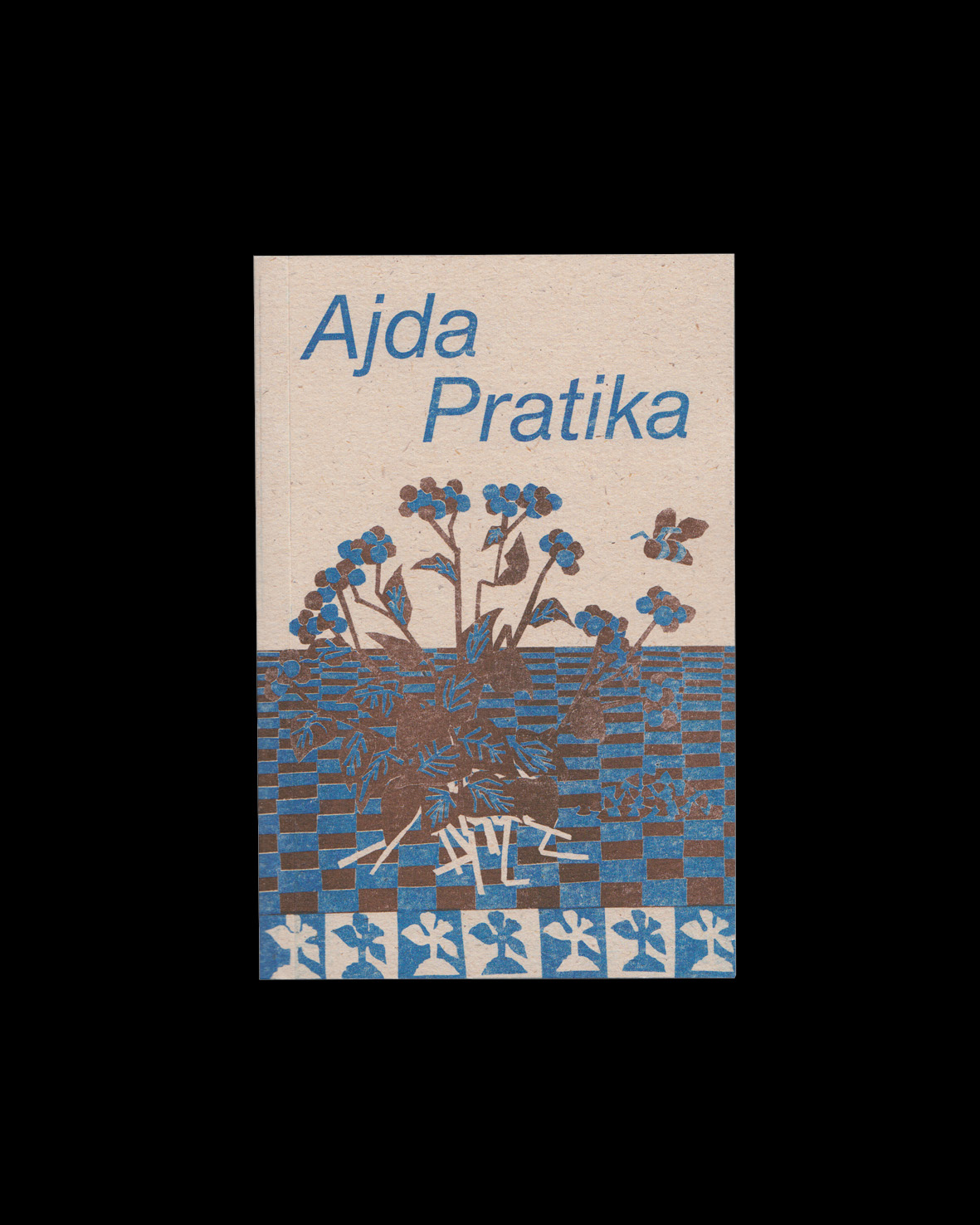 Janja —
The word supervarnaculars caught my attention and I've been trying to form my own definition of it ever since. Questioning myself what exactly does vernacular mean to me apart from hayracks and square proportion, corbeling and dovetail joint. Furthermore, what does a prefix super add to it?

While answering to the open call for a Bio27 Production platform, we discussed wholeness. The wholeness of the process that is in a way cyclical, a process full of care, knowledge, poetry and intuition.  However I was not aware that cyclicity is something that would accompany us through this journey, even more, that we would find our understanding of vernaculars in it.

Yes, for me it is about time. About the perception of time that cycles, about understanding that some things need time to exist, some things need time to grow, some things need exact time to be picked, to be done, to be cultivated, to be harvested, to be taken care of. And this time may be long and it has to be right. Only time shows the quality and results may not be present instantly. Time makes it timeless. Time that repeats in continuity. Time as a slow spiral.

Pratika was not an obvious result of our research, but if I read the upper lines, it couldn't be more obvious. It is a calendar of land. A time-lapse of a year, a year that receives, a year that nests, a year that feeds, a year that rests. Ajda was our link to the plates, to the land around us, to the culture and vernaculars. For some of us Ajda (buckwheat) was already a sign of times, for others it became.
•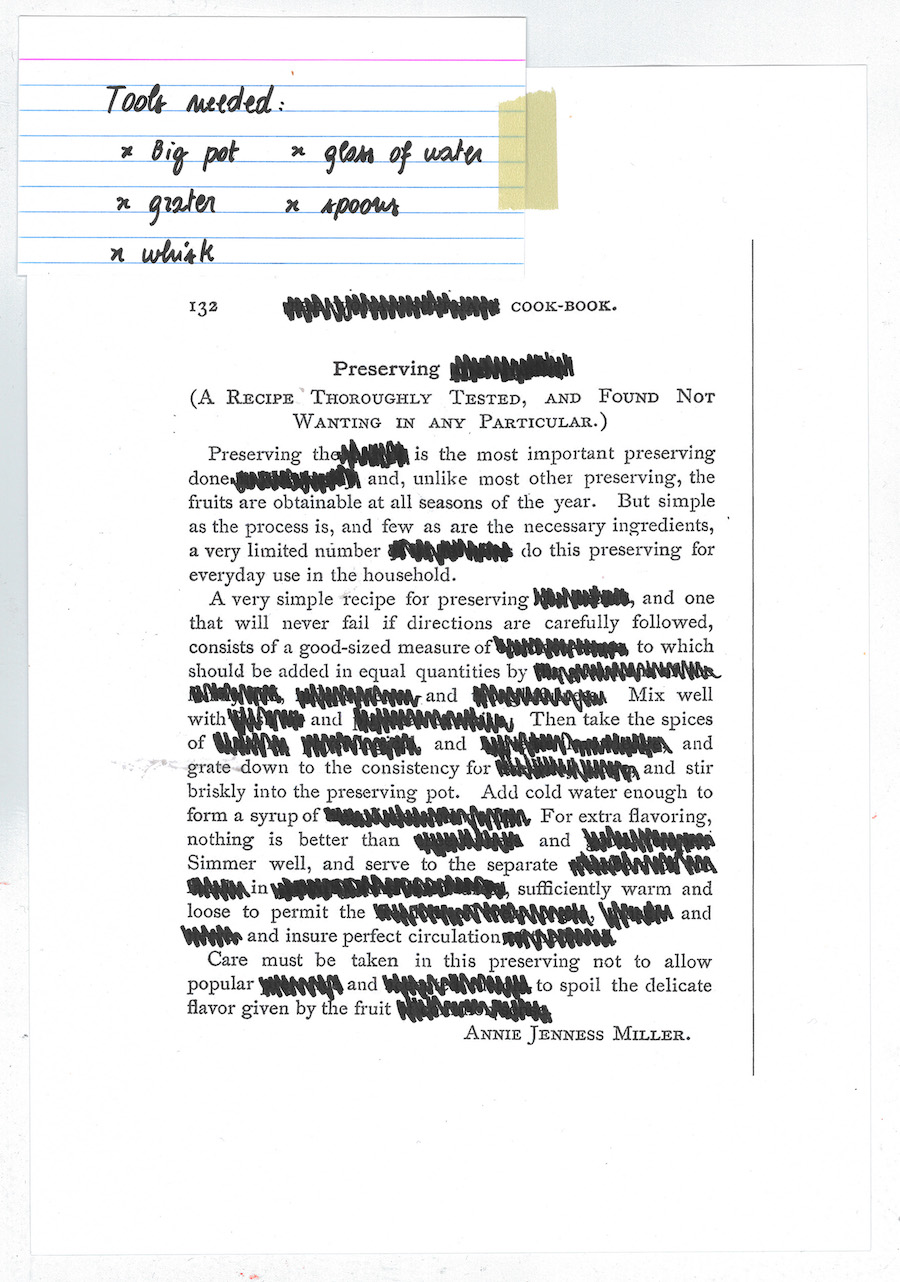 — Kim
In October 2021 Janja reached out to two handful of people in order to apply to BIO27 in Ljubljana (Design Biennale 2022). I feel lucky to have been one of the recipents of the e-mail she sent. After we got accepted for the Production Platform 'Grains for Brains' of the BIO27 a seven month long journey of togetherness started. It was challenging to sense each other and the growing of the project since all the meetings we held happened through screens. A part of our team lives in Amsterdam (NL), a part in Ljubljana (SLO), the 'headquarter' or (heartquarter) in Topolò (ITA) and i lived in Avrona (CH). 
I really caught fire by the conceptual part of the project, the 'thinking together', digesting each others thoughts and ideas, give space, take space and slowly and carefully manifesting thoughts into material. 
The Ajda Pratika, a small booklet which resembles an almanack in a calendar format focused on buckwheat, tought me a lot. I'm happy to have investigated and contributed content devoted to 'phenological seasons' as well as the visual and material form of the book together with Elena Braida and Francesca Lucchitta (and of course always together with the others). 
I'm happy with the outcome, it fits in my hand, the content is enveloped in a cover printed on japanese knotweed paper, crafted in Ljubljana by Trajna Collective. I'm thankful for the many new connections I was able to make through the process of working on the booklet. 
I feel this was a very unique experience, to be able to participate with such intensity to a project which did not pay any of our work (speaking money). I could only afford this with a good paying side job at that time and a cheap rent as well as Robida hosting me in Topolò for the more intense finalising of the project with very few expenses and a lot of community support. 
I'm immensly grateful and inspired for the space and time we shared as a collective (and extended supportive network) and wish to thank everyone for their courage, commitment and care! 
•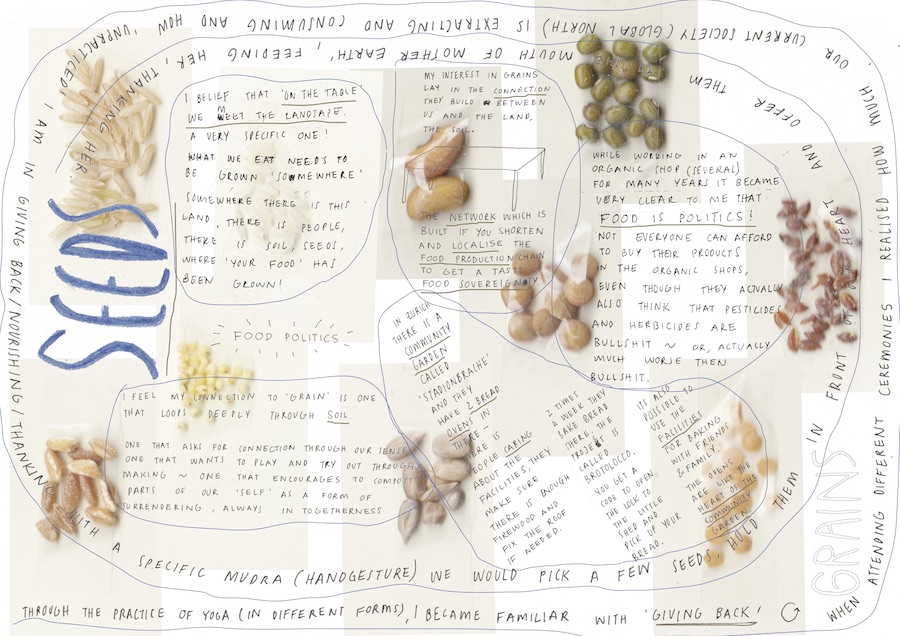 Elena B —
Diving in one specific ingredient over the length of the year has unravel a very precious methodology to bring along with me and in my practice.
It was arduous to tingle everybody's conceptions and cultural baggage around buckwheat yet inspiring because by orally sharing each other stories many interesting facts, traditions and situated knowledge emerged. Lost in translations, grandmothers hacks and recipes, unvaluable object, written taccuini and blurry childhood memories have defined our research around the grain-not grain, allowing us to step out of the screen and online search engines. It was surprisingly fun to think together eventually how to deliver this knowledge shared to a wider audience, this has not only pushed the limitations of my graphic design skills but also allowed me to make a beautiful object I now bring along with me always, everyday.
A research worth to define my daily rituals and suggest new ones over the year, where time is dictated by the rhythm and growth of our dear Ajda. 
•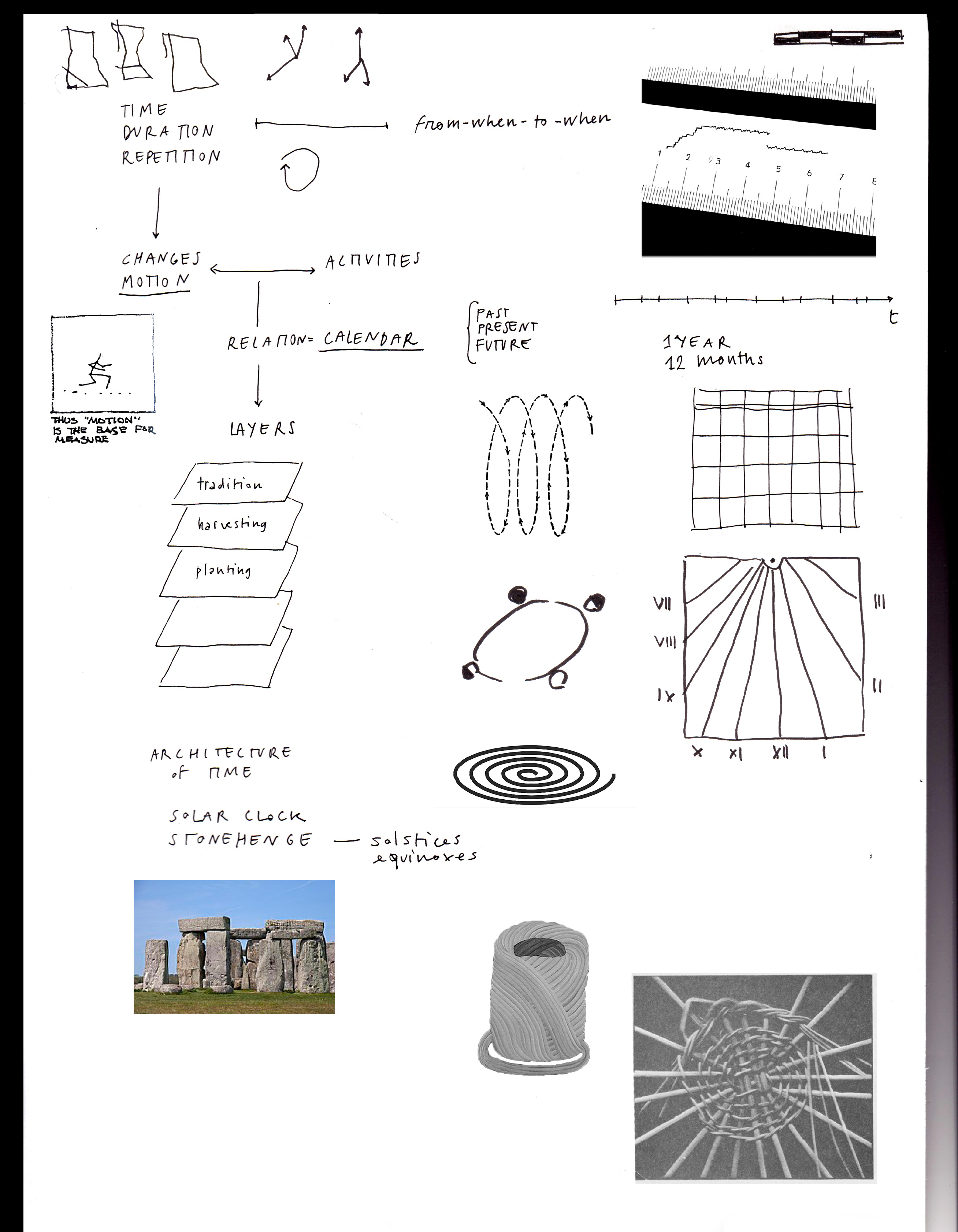 Vida —
A year has passed since we started to think of grains as giving shape to landscapes, cultures and foodcultures. A year from when we decided to dedicate our attention to buckwheat, quite an unknown grain to some of us (me included). What does it remain from those reflections, hard work and dedication? Probably each of us composted the experience differently, using scraps which were accumulated and let sediment in their own way and with their own time. Very frequently we forget about the after-care of projects, we even forget just to observe which traces they left on our practice, manner of thinking and working. Can these remains be observed and traced back to when they were born? What compostables made our Ajda Pratika compost (with this question I refer to Astrida Neimanis and Jennifer Mae Hamilton article Composting Feminisms and Environmental Humanities from 2018, who themselves mention Donna Haraway who quotes Marilyn Strathern "it matters what stories tell stories, it matters which concepts think concepts"). What are those uncooked leftovers which we decided to layer carefully somewhere, to let some nutrient rich soild develop from them (instead of just throwing them away or storing them in a drawer)?
I think the composted elements which I let transform for one year are some specific contents and some specific methodologies.
(continues)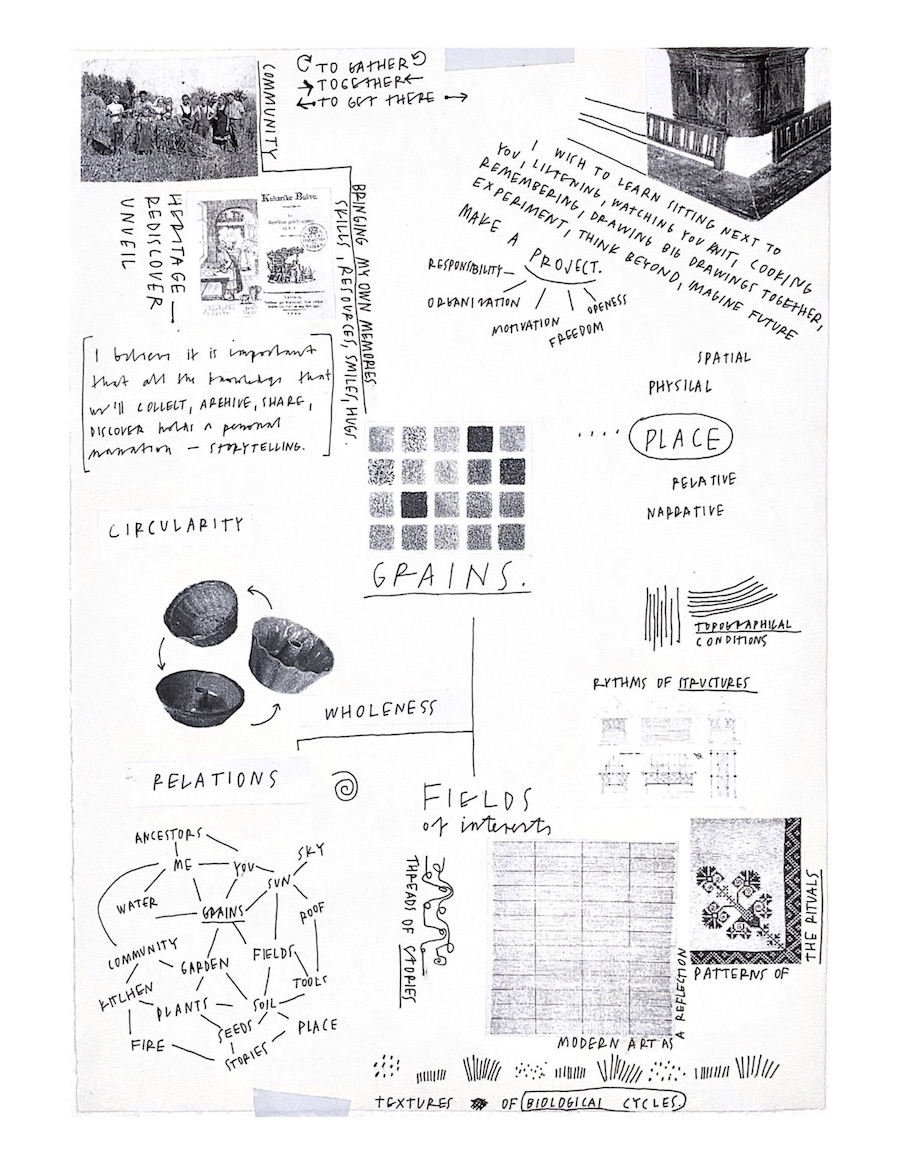 Let's start with the methodologies. I am writing this little after-care reflection from Switzerland, from the residency at the Bibliothek Andreas Züst in St. Anton, Oberegg. From the first day here I started composing one A4 paper a day with some reflections of the day, images found in books, photos from the landscape, words of the day. I took this routine/ritual from the initial methodology we used when working at the beginnings of the Ajda Pratika project (you can see some of the A4s we made here). And as I see the beauty and usefulness of tracing everyday's encounters and dedicating a moment to re-work them, I see also that this routine can become the only thing I work on, distracting me from a larger goal (the project I am developing during this month here). I understand the satisfaction of this accumulation but I also realize that its volume can trick you into thinking that you are actually building something and everyday adding a piece to it. It actually does not work like this: sometimes projects need a time of pause (to let things sediment), other times they need super intense work and care. I think this is something we realized also through our Ajda Pratika A4 making: it can help you finding a focus, re-organizing your ideas but it can also stop you from actually starting! Anyway, they are a beautiful trace of a process, they remind you how much you grew working on the project, which were the topics you were reflecting on and how they changed until the end. Maybe we just need to remember that they are not enough. 

Content-wise the research project on buckwheat left some beautiful reflections about kozolci (the typical Slovene hayracks) and about architecture which is sensible to the cyclicity of seasons, about žrmlje (rudimental milling machines which were activated by hand) and the heaviness of labour, which opens poetic interpretations but also makes us aware of exploitative power relations, and about pratike (Slovene almanacks):  the little publication we produced is a physical interpretation of the old pratike, but also an experiment for a new format of recipe book where the reflection on a specific plant-food, buckwheat, poses wider questions on knowledge, representation and the relation to vernacularity.
•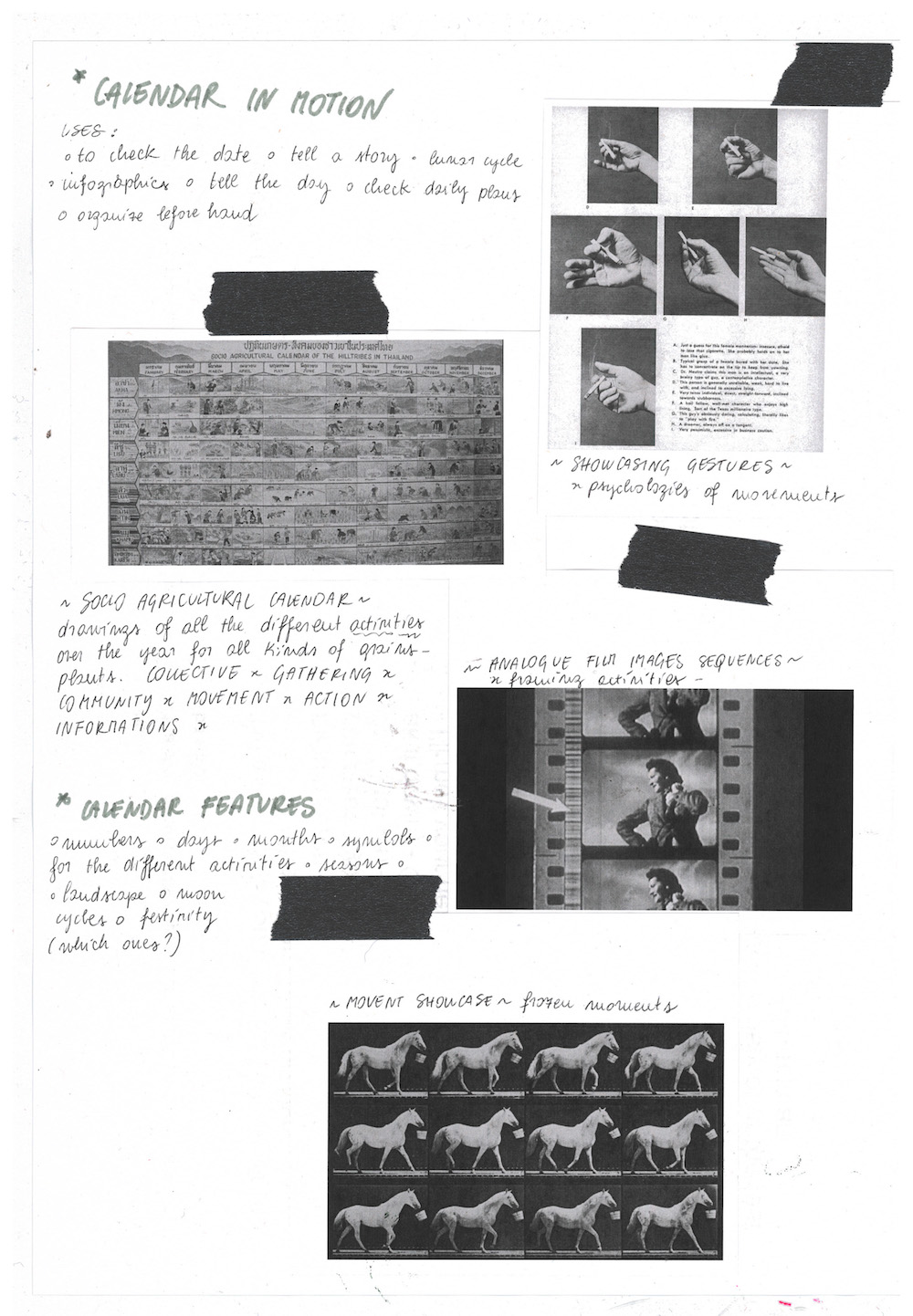 Elena R —
Ajda Pratika is the result of months of research, chats, meetings, reflections, exchanges, and above all, discoveries. Both in terms of content and relationship.
Personally, I came to learn about different stories, traditions and characteristics related to buckwheat, a plant I knew little about, precisely because our research ranged heterogeneously but cohesively across all fields. How it grows, what nutritional values it has, how it affects the landscape, how it relates to architecture, what relationship it has with the earth, how it is transformed during the year, how it was traditionally used, and how it could be used in the future...

Regarding the relational aspect, the working group was made up of people with different backgrounds, which therefore put the focus on different aspects. And the collaboration between us allowed us to have a result that went in different directions, giving everyone the opportunity to go deeper into a certain aspect. It was nice to see how we influenced each other.

We would like this study approach to become a pioneer for future research.
•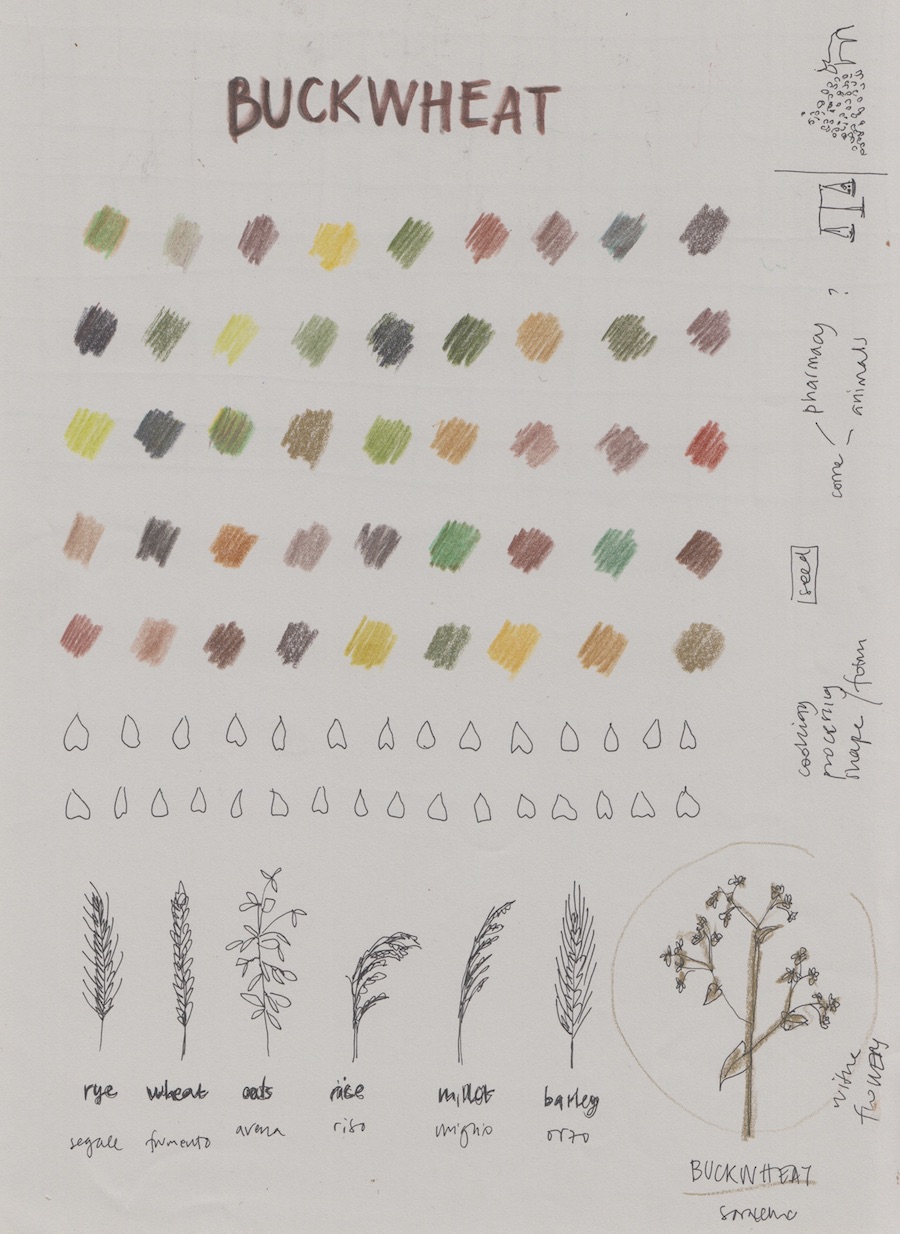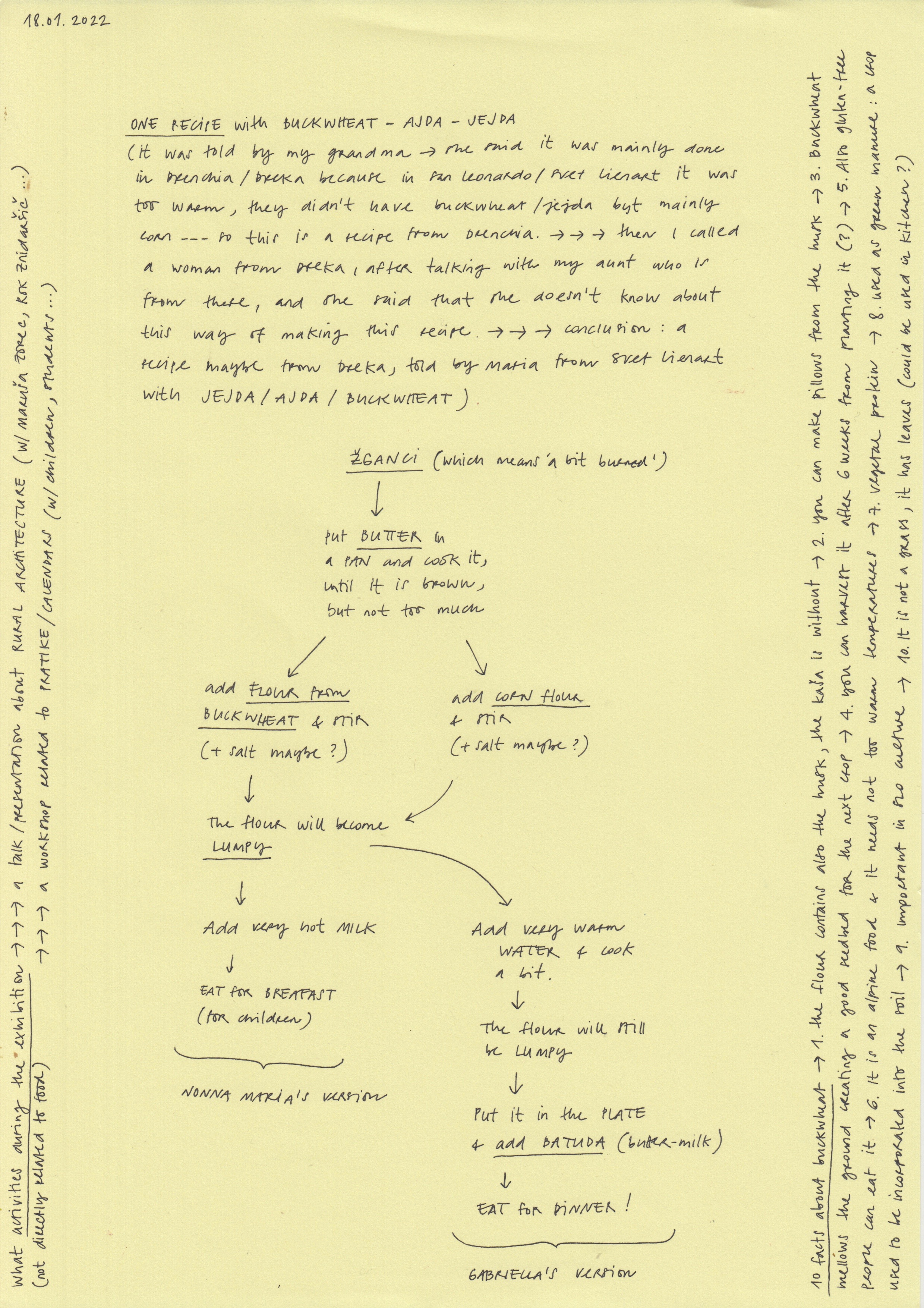 "Ajda Pratika is a new format of recipe book, where content is organised through time and where recipes are suggested for specific seasons and moments of the year. It is also a recipe book involving buckwheat that does not lead to food on the plate: these are recipes of observation, engagement, reflection. Recipes that invite the reader to be touched by buckwheat not only as food for humans but also as an element of the landscape, as a seed, as a flower, as a plant which grows mycorrhizal, symbiotic relationships with fungi, as a cover crop, a treat for the soil itself. Ajda Pratika is an invitation to widen our gaze when we look at food. To include landscapes, animals, cultural elements connected to a specific plant. To think about how this plant-food, and others too, shaped the world we live in."

from the introduction, Ajda Pratika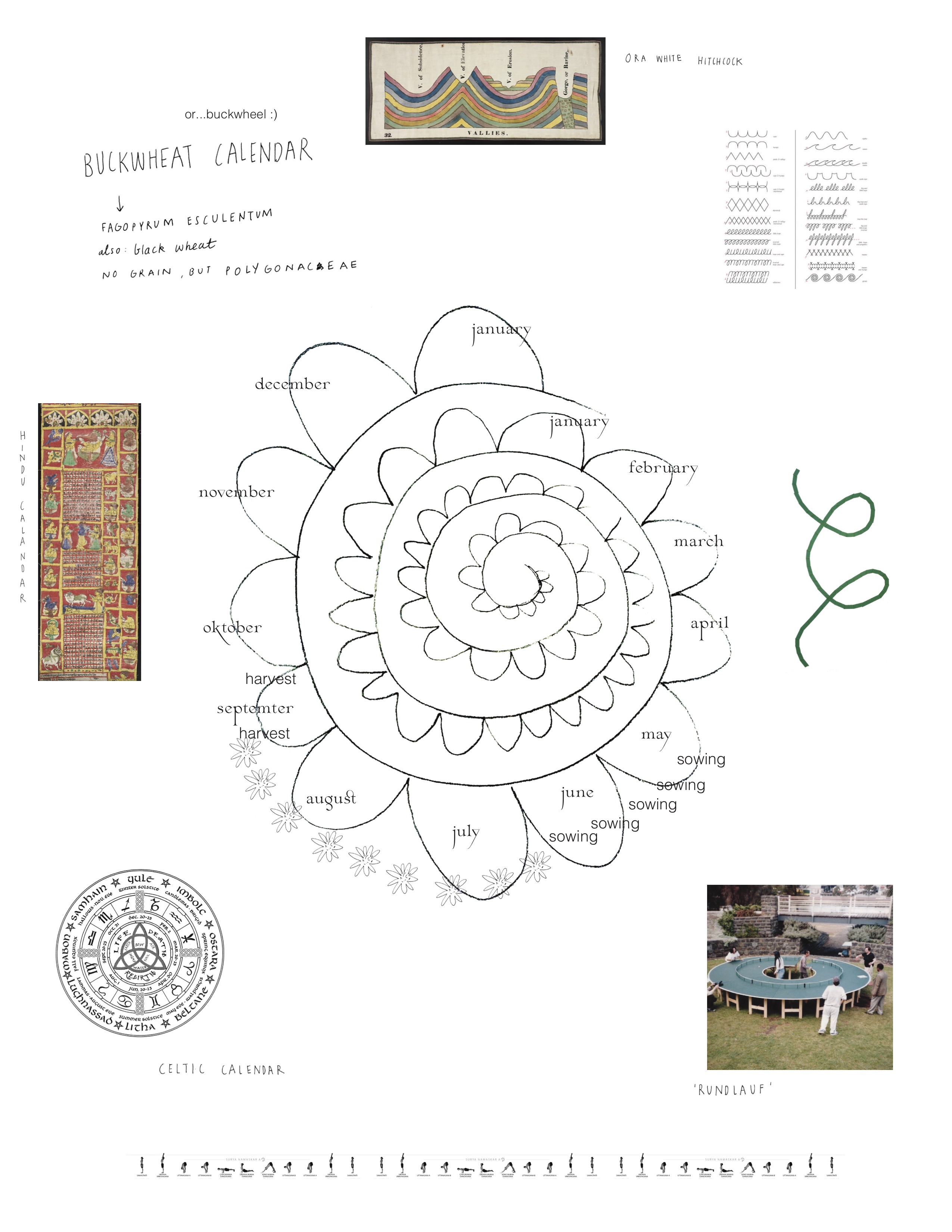 — Dora
A few years ago, with some friends, we walked down the village of Topolò in the direction of the surrounding forest, admiring the huge stone walls and the big trees which are now growing on the terraces. [The terraces in Topolò are intended as the pieces of land defined by two walls which are shaping the mountain in a staircase to access the village]. Today we can imagine a time when these were fields, where vegetables and fruits were growing and human beings were responsible to keep away the wilderness, which now is taking over the place. It sounds like a long time ago, but pictures with colors and familiar faces prove to us that it is a matter of few generations.
I'm not nostalgic about a need to survive through working the land and make use of all you could find in the surrounding to provide yourself something to eat, but I am curious about looking for a new relation with this land which could motivate an everyday visit, a need of care and shape an accessible landscape.

The massive stones are covered by the ivy and some roots have entered the walls, destroying the perfect structure which supports the terrace and bringing with them a feeling of precariousness. So we started to clean, to cut plants and newborn trees, with a sense of sorrow but no guilt. We were determined to make visible the intervention of the human being, to act against the overwhelming wilderness, specially the brambles [robide-arbide in the local slovenian language-dialect]. 
We did not hope to stop or change the natural development but we have activated ourselves to be part of this growth.
But what next? How to maintain this result in time?
–
And so, this unusual afternoon in the company of some friends became a lifestyle, a common faith on the meaning of investing time and energy in a place, of being there and keeping the forest under control … or this is what I tell to myself, conscious that there is no possible control and our time is vary relative compared to the lifetime of forests.
The old and wise inhabitants looked with disenchantment at our actions, of cleaning and of dwelling, sentencing the project of a stubborn and enthusiastic group of young people to an inevitable failure.  
In the last years the group was growing and the action was shaped in different direction: new inhabitants moved in and old houses were reopened, common spaces and lunches kept the friendly atmosphere, sheep and chickens helped us to clean fields and paths, readings and conversations gave us the terminology to develop and express our project and design it as something on which human beings - and so also we - are able to trust and act for.
What next? In these years the terraces were cleaned and new places discovered and finally last year I took the challenge to grow something on these terraces. So robida discovered AJDA [buckwheat] and made space between roots and stone for the tiny, delicate seeds of this flower, almost a grain.
The soil was cut, the nutrient [horses shit] was provided, the spontaneous plants were carefully extracted to create the space to grow something new - or I could say to embody the landscape inside our growth.
•